Nakamura Printing Co. Ltd. / Ukigami Memo Pad (2.5 mm Grid)
Story to show Japanese craftsmanship through the things, the place and the people related to Cohana's products. Our third story is Ukigami Memo Pad (2.5 mm Grid) by Nakamura Printing Co. Ltd.

Have you ever heard "Granpa's Note" ?
It is a miraculous notebook that became widely known as a result of the enthusiasm of two grandfathers and one action by their grandson.
This is the story of how the miraculous notebook was produced.
—
An old man who worked at a printing company in downtown Tokyo, together with his employee who was an expert in bookbinding, developed a notebook that opens horizontally when opened, inspired by a comment from a customer.
After two years of repeated trials and failures, they were successfully able to create a notebook that does not cast a shadow in the middle when copied or scanned, and allows the user to write right up to the edge of the spread. They also obtained a patent for this manufacturing method.
The performance of the book was well evaluated, but it did not sell well. It did not lead to orders, and they had several thousands of notebooks in stock.
"If only people could use them, they'd understand how good they are… " The old man, who was in charge of bookbinding and felt guilty when he saw the inventory he had made, said, "Give these to your friends at school." He handed the notebooks to his granddaughter.
When my granddaughter received the notebook, she posted about it on Twitter, thinking, "Maybe the illustrator I know on Twitter would like it." So she posted about the notebook on Twitter.
Then, many people commented on it and spread the product. It was then picked up by the online media, newspapers and TV, and the stock was cleared out. It became a popular product at once.
—
This story left a strong impression in the minds of Cohana staff.
The granpa in this story is the president of Nakamura Printing Co. Ltd., Mr. Teruo Nakamura.
We would love to have Mr. Nakamura make Cohana's design book.
When we expressed our passionate desire to work with Ms. Nakamura.
Memo Pad for design… I've never done anything like this before. I'm willing to try anything new. Let's do it!
Mr. Nakamura gave us a pleasant reply. That's how we started making Cohana's design Memo Pad for handcrafts.
We went to Nakamura Printing Company, the birthplace of the horizontal opening technology.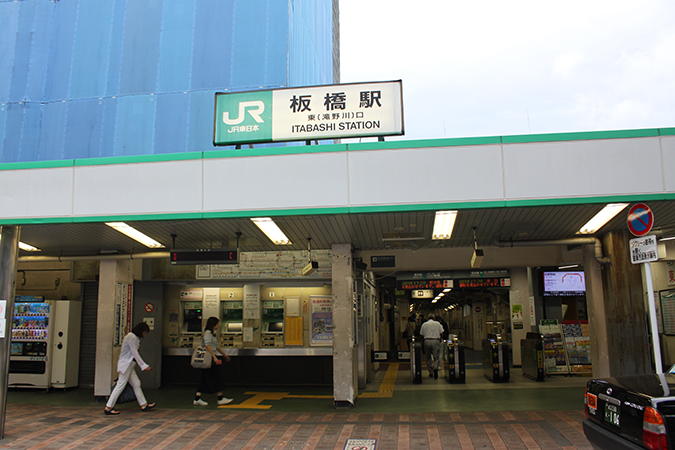 ▲Nakamura Printing Co. Ltd is located in the downtown area, not far from Itabashi Station in Tokyo.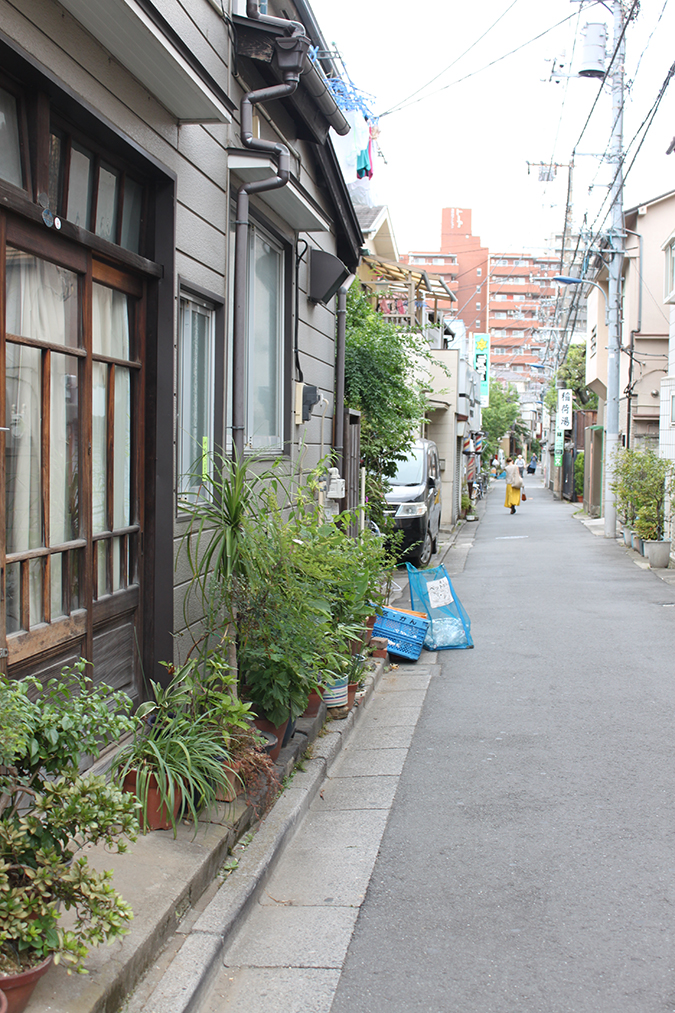 ▲House with wooden-framed entrance and a public bath behind. There is a typical Japanese downtown atmosphere here and there in the neighborhood.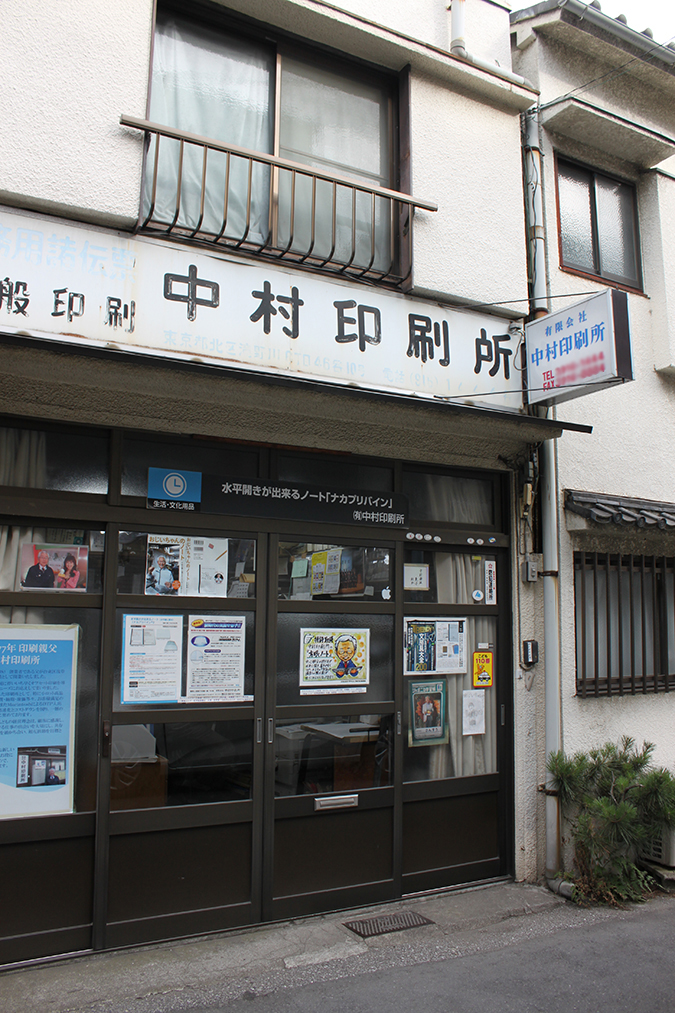 ▲Oh, this is the place! The store is set up in such a way that you can tell at a glance that you are in the right place. This is not a store but sometimes ordinary customers come to buy their products.
When we entered the printing office, President Nakamura welcomed us with an cheerful greeting. We immediately started discussing the details such as the density of the ruled lines and the color of the inside cover. As expected of a craftsman who has devoted himself to printing, he gave us precise advice based on his wealth of experience, and the conversation proceeded smoothly.
As I had felt on the phone, I was impressed by his speed and his enthusiasm to explain about printing in a lively and fun way. I felt that this miracle was not a coincidence, but a result of Mr. Nakamura's work by his nature.
▲When I asked him to pose with his notebook open, he responded without hesitation, "I'm used to this pose." He responded with a smile.
Interview starts
ーWill you tell us about the history of Nakanura Printing Co. Ltd.?
Our company was established in Asakusa in 1938. In the generation of my father, our custom-made slip printing using letterpress was very popular, and our business grew significantly thanks to his hard work and the era of rapid economic growth.
After receiving the baton from my father, my generation was also doing well, following his important principles of "never turning down work" and "finishing each job carefully without delaying the delivery date".
However, the collapse of the bubble economy and the wave of digitalization and paperless printing technology have gradually swept over us.
ーSo, was this the beginning of the development of the horizontal opening technology?
Yeah, that's right. Basically, all printing shops are dependent on orders. However, if we just waited, we would sooner or later have to close down the business, rather than handing over the goodwill to our late son. With that in mind, I approached one of my employees who was an experienced bookbinder.
However, the beginning point of the project was the voices of our customers.
ーWhat did you hear from your customer?
When we were selling ordinary bound notebooks at an exhibition, one customer said, "Notebooks are hard to write in because the center of the notebook floats unless you hold it with one hand. I could have brushed it off, thinking that's just how notebooks are, but it kept bothering me.
I talked to one of my employees who had been involved in bookbinding for a long time, and he said "Let's give it a try".
After completing the development, I gave a prototype notebook to a young man who was about to take a university entrance exam, and he was very pleased with it. A small comment from the customer or a happy reaction when I handed the notebook to him was a driving force for me.
ーIt was because you valued the voices of your customers that you were able to create a flat opening notebook.
By the way, this was the first time for us to make a product that uses the flat opening technology as a "memo pad", so we wondered if you would accept the development with us.I contacted you with a sense of anxiety, but you gladly accepted my request, which surprised me very much.Is there a reason why you decided to cooperate with Cohana's flat open memo pad?
As with the development of the horizontal opening, as a craftsman, I want to try new things. I've been thinking about other places where I can use this technology besides notebooks. That's why I was very happy to be asked to make a flat opening notebook that can be used to draw designs. That's why I decided to do it.
ーThank you very much for saying that. We are glad to hear that.
After the short interview we were able to see the scene where the notebooks were created.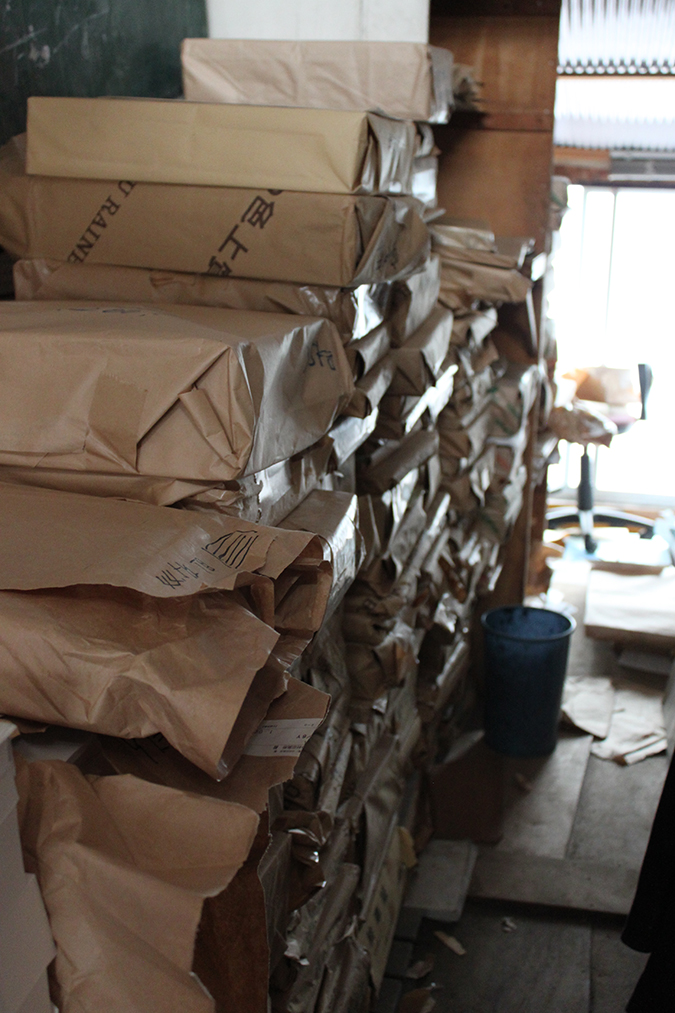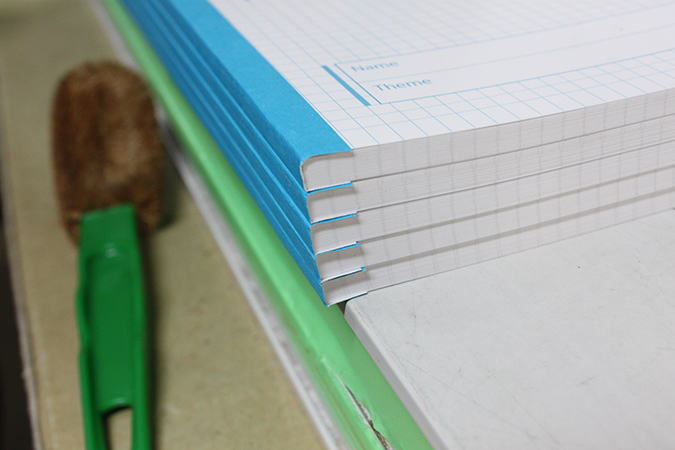 ▲The smell of paper and ink at the print shop makes me feel nostalgic.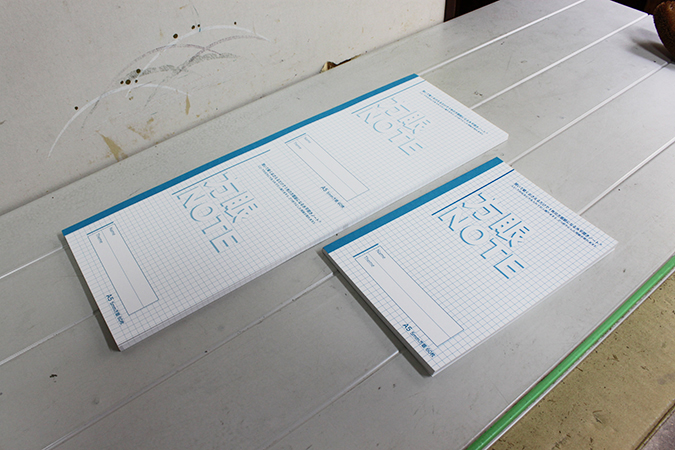 We found an interesting thing. Before the finishing process, the two notebooks are connected in a row vertically.
He said, "Let me show you the process of making this," and took us step by step through the process. There was much more manual labor involved than I had imagined.
"I count the number of pages per book by hand, like this."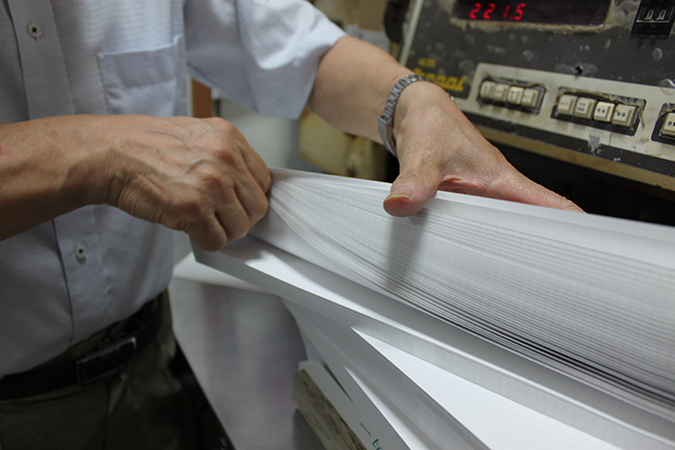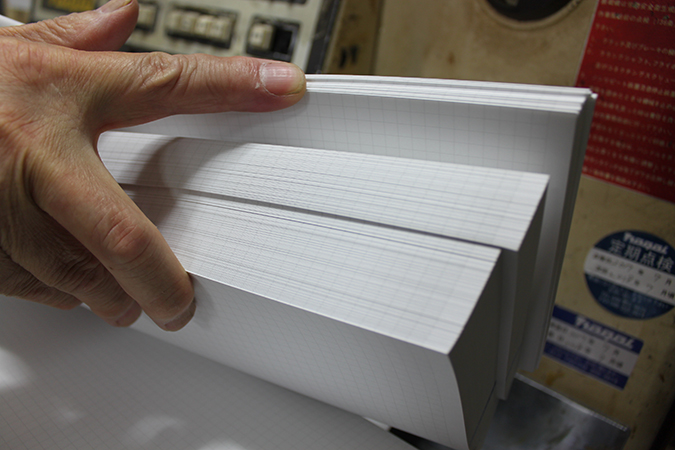 ▲Even if he count with my hands, he is able to accurately count the number of pages.
"I used this knife to cut up the notes after gluing…"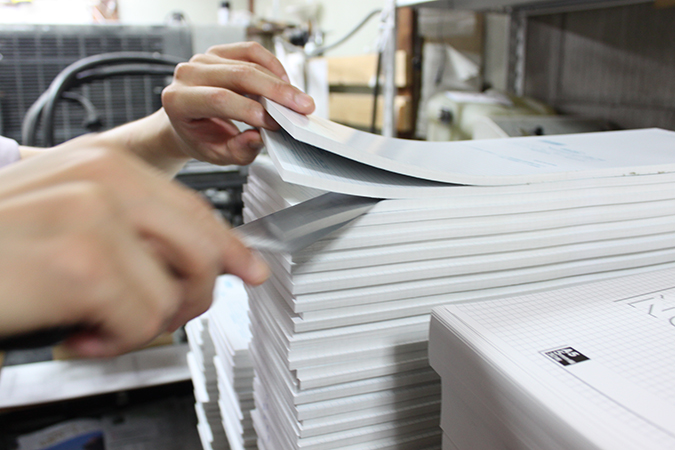 What made me even more curious was the presence of the "tawashi" (Japanese scrubbing brush) that was placed next to it.
"How do you use this?"
"I' m crimping the spine by rubbing it with this scrubbing brush."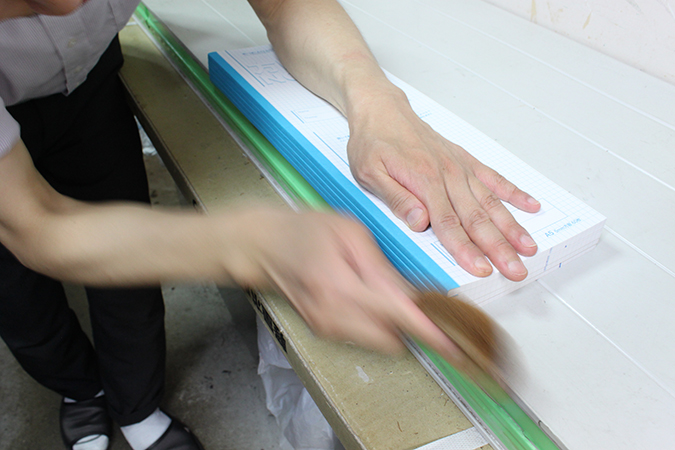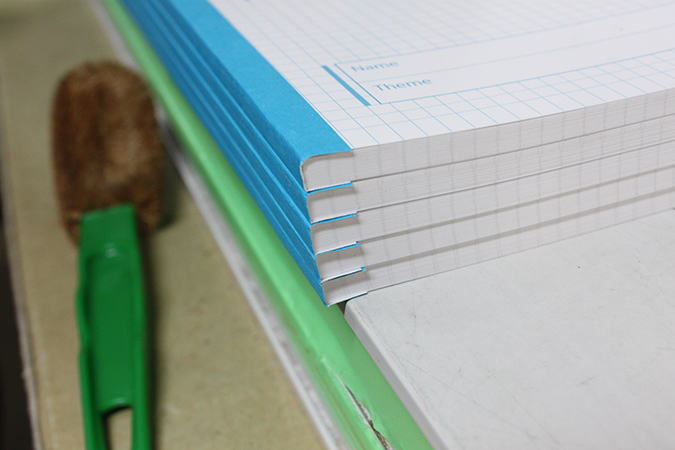 ▲Can you see that the spine is now more firmly attached than at first?
After searching for various tools, he discovered this "tawashi". I learned that the craftsmen's ideas are also utilized in this kind of fine finishing.
▲Before shipping, each book is inspected one by one. This is a moment when you can feel the love for the product.
Going toward the back of the room, I found an interesting map books.
"Maps and cookbooks are easier to use if they open 180 degrees, right? Whenever I get an idea like that, I want to try with my hand…"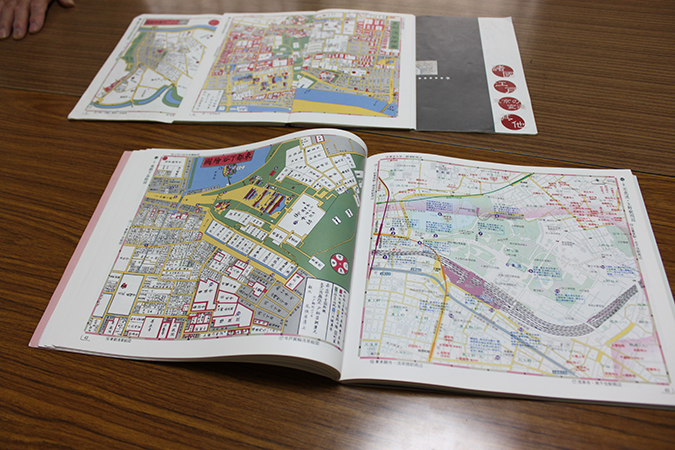 ▲A common map book like this…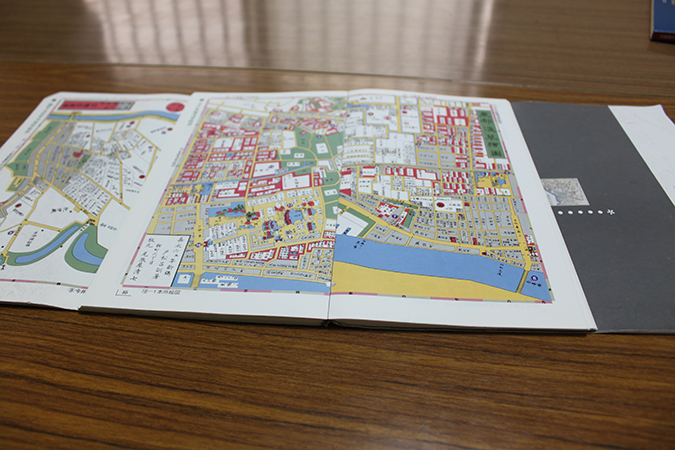 ▲With the flat open binding tech, it looks like this!
These are the hands of Mr. Nakamura.
There was a deformity in the first joint of the little finger on his right hand. It was a big bump caused by dealing many pages of the notebooks for a long time.
" No pain. It's like a badge of honor for a craftsman. "
As he smiled happily, I could feel the strength and pride he had gained by surviving the changing times as a printing craftsman.
Even if he doesn't have a big machine, he finds the best tools from everyday items and applies them to his work.
He was not afraid of failure, and he worked hard to develop and create new bookbinding technology that became a patent.
Every day of ideas and challenges creates better products… I could feel the true spirit of the craftsmen through his story.
The "Ukigami Memo Pad (2.5 mm Grid)" is filled with our passion and the spirit of our craftsman.
I left the print factory wishing that Cohana's products would deliver this spirit.
Nakamura Printing Co. Ltd.
A printing factory established in Asakusa in 1938. After hundreds of prototypes, the veteran craftsmen of the downtown area have created a patented "Flat Open" bookbinding technique.
We continue to create notebooks with the motto, " Constantly have fresh ideas".
Nakamura Printing Co. Ltd. HP http://nakaprin.jp/